あなたも懸賞付きデザインコンテストへ参加してみませんか?SIGGRAPH ASIAは新しく公式マスコットキャラクターのデザインを募集をします。マスコットキャラクターはSIGGRAPH ASIAの顔としてSIGGRAPH ASIAの魅力を広めていくために活躍します。採用されたマスコットデザインは今年の東京開催時以降各種販促物、イベント等で使用します。
ついては審査は正式プログラム同様、日本以外の審査員も含めた方々によって審査されますので応募内容はじめ英語のみでの表記となります。
応募締め切り日は15 July 2018, 23:59 UTC/GMT。沢山の応募お待ちしています。
Contest: Your Imagination, Our Reality
SIGGRAPH Asia is now 11 years old! We would like to do a special call for submission: "Call for Imagination". SIGGRAPH Asia 2018 is calling out to all artists, designers and friends of SIGGRAPH Asia! Submit your most imaginative character to us and you could have your masterpiece transformed into a three-dimensional, huggable, one-of-a-kind SIGGRAPH Asia mascot! We are looking for a character that could be used as a mascot and be the unique character that identifies with; and represents SIGGRAPH Asia this year and beyond.
The Theme: Imagination in Asia
What is this about?
Let your imagination run wild! Turn your character design into reality. Draw fantastical creatures, imaginary friends, objects and have them come to life at SIGGRAPH Asia 2018 in Tokyo, Japan! Nothing is impossible in a creative mind! No Superman, Pokémon, or other known registered characters please. We are sure you can come up with your own original character that has a lively personality and identifies with SIGGRAPH Asia. Have fun and get your creative juices flowing! The character must have the Australasia and SIGGRAPH Asia elements. The annual event, which rotates around the Asian region, attracts the most respected technical and creative people from all over the world who are excited by research, science, art, animation, gaming, interactivity, education and emerging technologies.
Winners and Prizes
One participant will win a complimentary full conference ticket to attend SIGGRAPH Asia 2018 in Tokyo, Japan and a cash prize of USD 1,000! This cash prize will be presented at the Opening Ceremony of SIGGRAPH Asia 2018.
Eligibility and Contest Date
This contest is open to anyone aged 16 years old and above. Along with the mascot design, the contest participant is to submit a brief explaining the rationale of the mascot design with the following guides such as Character's Purpose/Personality, Character's Unique Feature(s), Character's Colors etc. A contest participant may submit more than one mascot design. Contest ends on Sunday, 15 July 2018, 11.59pm GMT/UTC.
It will be the sole responsibility of each participant to ensure that the mascot design does not infringe copyright, privacy rights, regulations, orders or directions of any third party.
SIGGRAPH Asia will have exclusive rights to all mascot entries and designs.
How to Submit Your Entry
Simply download, fill up the form and send your submissions to このメールアドレスはスパムボットから保護されています。閲覧するにはJavaScriptを有効にする必要があります。. You could be hugging your very own self-created SIGGRAPH Asia mascot soon!
Your Drawing
Orthographic drawings (or projections) are a series of 2-D views that give you a complete sense of a 3-D object when taken all together. At minimum, your drawing needs to consist of the following:
Front View
Side View
Side View (Showing Leg – if applicable)
Back View
Top View
Dimensions of drawing
Criteria for Judging
Creativity: 20%
Originality: 20%
Relevance to SIGGRAPH Asia: 40%
Explanation of Design: 20%
When you create your orthographic views, you want to make sure that the dimensions all match up. The height of the front and side views should be the same (C), as should the width of the front and top views (A), and the depth of the top and side views (B).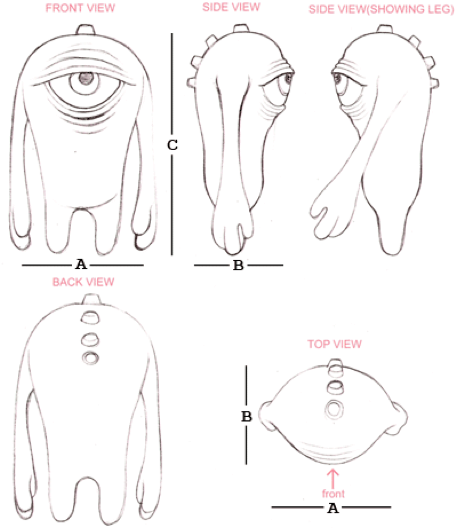 Winners will be announced at the end of September 2018.
We cannot wait to see your creative entries. Here's wishing you all the best!
Note: The rights to the winning character will be under SIGGRAPH Asia to be re-created and made into a mascot or a plush toy. The winner will have to provide us with a 3D design of the winning design. The artist name will be listed and given credit accordingly. We do not own the rights of other submissions for this competition.
Jury
The Jury is composed of both Academic and Professional participants worldwide, such as chief executive officers or head designers of companies and faculty heads or professors. In addition, it features the focus group jury, which is composed of ordinary people to normalize the scoring by eliminating the bias on aesthetics and form sections, the votes of Professional, Academic and the Focus Group are weighted to determine the result.
What to Present?
We consider your submission on multiple dimensions. Applicants should send high-resolution images of the product, together with a presentation of its packaging and application guides.
Awarding Criteria
The best products are selected according to form, functional and emotional aspects of the product; the products are considered for their degree of innovation, aesthetic qualities, functionality, age-appropriateness, educational value, fun factor, social aspects, sustainability etc.
No Fees
You are not obliged to make any further fees for winning the award and everything listed in the winner's benefits.