Full Conference Pass (FC)

Full Conference One-Day Pass (1D)
Date: Tuesday, December 4th
Time: 11:00am - 12:45pm
Venue: G402 (4F, Glass Building)
Session Chair(s): Nafees Bin Zafar, Magic Leap,


---
A Magic Wand for Motion Capture Editing and Edit Propagation
Abstract: Our algorithm is analogous to the difference between generic splines and the "magic wand" in image editors, but applied to motion editing.
Authors/Presenter(s): Christopher J. Dean, Victoria University of Wellington, New Zealand
J.P. Lewis, SEED, Electronic Arts; Victoria University, United States of America
Andrew GM Chalmers, Victoria University of Wellington, New Zealand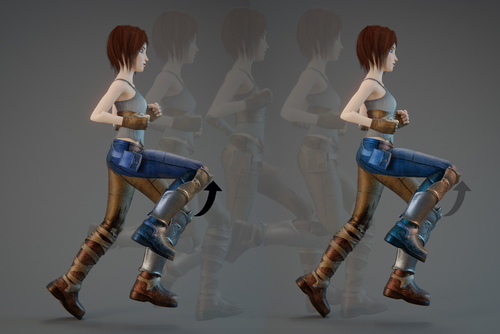 ---
Smeat: ADMM based tools for Character Deformation
Abstract: Recent simulation work in graphics has focused on energy minimization formulations of dynamics based on fast optimization methods. We present our character effects tools based on one such method, ADMM.
Authors/Presenter(s): David Minor, Digital Domain 3.0, Canada
David Corral, Digital Domain 3.0, United States of America

---
Neural Network in Combination with a Differential Evolutionary Training Algorithm for Addressing Articulated Inverse Kinematic Problems
Abstract: Inverse kinematic problems are a challenging topic (computational cost, non-linear nature and discontinuous, ambiguous characteristics). Neural networks offer a flexible computational model that is able to address these difficult problems.
Authors/Presenter(s): Ben Kenwright, Zhejiang Normal University, United Kingdom

---
Recurrent Transition Networks for Character Locomotion
Abstract: We present a Recurrent Transition Network (RTN) that automatically generates transition animations for video games. It produces realistic and fluid transitions that rival the quality of Motion Capture-based motions.
Authors/Presenter(s): Felix G. Harvey, Polytechnique Montreal, Montreal Institute for Learning Algorithms (MILA), Canada
Christopher Pal, Polytechnique Montreal, Montreal Institute for Learning Algorithms (MILA), Canada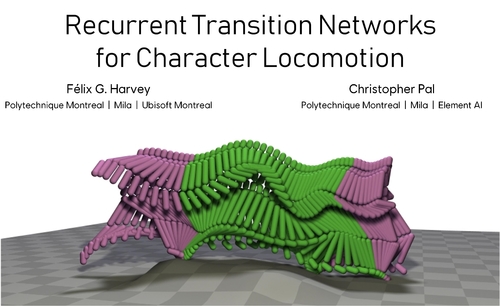 ---