Full Conference Pass (FC)

Full Conference One-Day Pass (1D)
Date: Tuesday, December 4th
Time: 11:00am - 11:25am
Venue: G402 (4F, Glass Building)

---
Summary: Our algorithm is analogous to the difference between generic splines and the "magic wand" in image editors, but applied to motion editing.
Author(s)/Speaker(s):
Moderator: Lecturer(s):
Author(s)/Speaker(s) Bio:
Christopher completed his Master of Science in Computer Graphics at Victoria University of Wellington in 2016, advised by Associate Professor J.P. Lewis and Associate Professor Taehyun Rhee, and is currently working for Weta Digital as an FX Technical Director. His interests include motion capture techniques, character animation algorithms, pipeline design, and the design of artist-facing tools for VFX animation and effects.

J.P. Lewis is a numerical programmer and researcher. Lewis is Principal Research Scientist at SEED, the new research lab of Electronic Arts, and is an adjunct Associate Professor in the machine learning group of Victoria University of Wellington. His interests include computer vision and machine learning applications in entertainment. He has received credits on a few movies including Avatar and The Matrix Sequels, and several of his algorithms have been adopted in commercial software including Maya and Matlab.

Andrew completed his PhD at Victoria University of Wellington in 2017, advised by Associate Professor Taehyun Rhee and Associate Professor J.P. Lewis, and is currently conducting research at the Computational Media Innovation Centre (CMIC). His interests are a combination of global illumination and computer vision and is a co-founder of Wellington-based startup DreamFlux. Previously, he has taught computer graphics and computer science courses at Victoria University at an introductory and post-graduate level. He has been credited in feature films for his research with Weta Digital.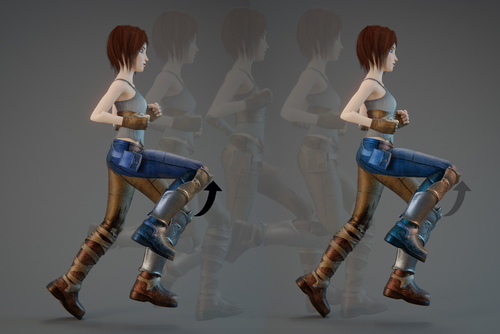 Date: Tuesday, December 4th
Time: 11:25am - 11:50am
Venue: G402 (4F, Glass Building)

---
Summary: Recent simulation work in graphics has focused on energy minimization formulations of dynamics based on fast optimization methods. We present our character effects tools based on one such method, ADMM.
Author(s)/Speaker(s):
Moderator: Lecturer(s):
Author(s)/Speaker(s) Bio:
David has been working as an R&D software developer in the visual effects industry since 2007 and currently works at Digital Domain Vancouver, where he specializes in simulation software for creature effects.

David Corral has been working at Digital Domain since 2010, where he has been the Head of Rigging Department for the last 4 years. In his +18 years of experience he has worked on projects like Avengers, Ready Player One, Spiderman: Homecoming, Beauty and the Beast, Transformers etc.


Date: Tuesday, December 4th
Time: 11:50am - 12:15pm
Venue: G402 (4F, Glass Building)

---
Summary: Inverse kinematic problems are a challenging topic (computational cost, non-linear nature and discontinuous, ambiguous characteristics). Neural networks offer a flexible computational model that is able to address these difficult problems.
Author(s)/Speaker(s):
Moderator: Lecturer(s):
Author(s)/Speaker(s) Bio:
Dr Benjamin Kenwright is a highly skilled researcher, developer, leader in game technologies, management and engineering operations. Ben has spoken around the world on game technologies and interactive solutions in both industry and academic contexts. His work has been featured in the press, broadcast and online media. He studied at both the University of Liverpool and Newcastle University before moving on to work in the game industry before returning to academia. Ben is a Chartered Engineer (CEng), a Senior Member of the IEEE, ACM and the British Computer Society. His research interests include real-time systems, evolutionary computation, and interactive animation.


Date: Tuesday, December 4th
Time: 12:15pm - 12:40pm
Venue: G402 (4F, Glass Building)

---
Summary: We present a Recurrent Transition Network (RTN) that automatically generates transition animations for video games. It produces realistic and fluid transitions that rival the quality of Motion Capture-based motions.
Author(s)/Speaker(s):
Moderator: Lecturer(s):
Author(s)/Speaker(s) Bio:
Felix G. Harvey is a Ph.D. candidate at Polytechnique Montréal since 2016, under the supervision of Dr. Christopher Pal. He started to work animation-data analysis and synthesis using deep neural networks in 2014, when starting his M.Sc. in deep learning at Polytechnique Montreal under the supervision of Dr. Pal and Dr. Michel Gagnon. His work includes semi-supervised motion classification and clustering, adversarial generation and conditional sequence synthesis using deep recurrent neural networks. His early work on animation began at an early age, making 2D flash animations that became exaggeratedly popular on the internet. He's been making stick-figures move since then.

Christopher Pal is an associate professor in the department of software and information engineering at Polytechnique Montreal and an adjunct faculty member in the department of computer science and operations research at the University of Montreal. He is also one of the founding faculty members of the Mila institute. He is a co-author of the newest edition of the well-known book Data Mining: Practical Machine Learning Tools and Techniques. He has a PhD from the University of Waterloo and worked with both the University of Toronto's Machine Learning group and Microsoft Research in Redmond Washington extensively during his graduate studies.